2013 Syrah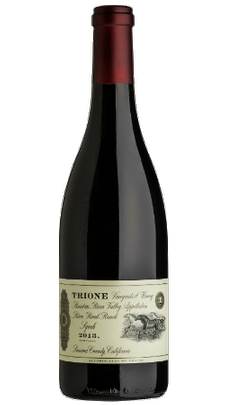 2013 Russian River Valley Syrah – River Road Ranch
The Vintage
2013 was a rarity in that it was a perfect vintage just like the previous one. What started out as a normal spring bud break was followed by a moderate, if not ideal growing season. Optimal conditions for ripening resulted in an almost perfect development of flavor, sugar, acid, and structure. The harvest season began slightly early but with perfect fall conditions it was compact and uniform. The season allowed for an almost clockwork style of harvest.
The Wine
The 2013 Syrah is a blend of two French selections identified as 470 and 877. Both of these selections are considered high quality and originate from the northern Cote du Rhone. The wine is made much like our Pinot Noir in that it is fermented with a large portion of whole berries in open top fermenters. The wine is hand plunged up to four times per day to allow for maximum extraction of flavor and color from the skins. The whole berries retain the deep dark blackberry fruit character that is so intense in this wine. In addition to Syrah, five percent Viognier is added to the mix to give a floral, aromatic component to the wine. 457 cases were produced.
Winemaker Scot Covington's Tasting Notes
The Trione 2013 Syrah is the ideal Russian River Valley Syrah. It defines cool climate Syrah, with intensity in both aroma and flavor. The wine is dark, rich and brooding, with layer upon layer of fruit, spice, earth and an almost indescribable complexity. It lingers on the palate, trailing off with hints of truffle and blackberry brambles. This wine will evolve beautifully over the next 3-5 years.
Wine Specs
Appellation
Russian River Valley