2011 Pinot Noir Magnum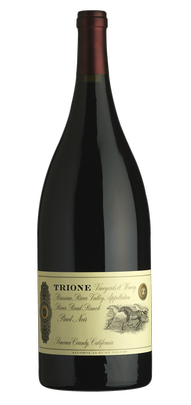 Limited inventory, contact us for details.
Vintage Summary: 2011 is proving to be a vintage year in Sonoma County and particularly for wines of the Russian River Valley. A cool year by definition, for red wines, including pinot noir, it meant that vigorous leaf and crop thinning methods were used to ensure that the fruit hanging on the vine was able to ripen. Trione pinot noir is grown in our Russian River Ranch vineyard which is situated at the epicenter of the appellation. In 2011, we had to pay particular attention to cluster yields making sure the grapes we brought in were at the peak of ripeness perfection. It has turned out to be a rewarding harvest; a year that is proving to be one in which time is a friend. Those that have Trione 2011 vintage in their cellars will be rewarded in the coming months and years.
Winemaking: 2011 was the first year that we added Pommard and UCD37 selections of pinot noir to the blend. The two selections are the latest additions to our River Road Ranch vineyard, planted in 2008. Pommard and UCD37 both add structure and a depth of richness to the overall blend. Traditional techniques such as such as open top fermentations and hand plunging the cap during primary fermentation were implemented. To accentuate the fruit component, twenty percent of the grapes were added whole cluster to the bottom of the fermenter.
Current tasting notes: Coastal notes of sea air, forest floor and blackberry brambles; a top down trip to Jenner by the sea, black cherries, hints of truffle and sage. This wine is muscular but balanced and displays long aging potential, 10-15 years.
Wine Specs
Appellation
Russian River Valley